Dabin and I
were traveling all around Medan to find cool places with WiFi connections and cute girls. It's not that hard a job, since there were a few nominee.
Starbucks
is a great place to start. The internet is pretty fast, we're downloading movie files with speed up to 103kbps.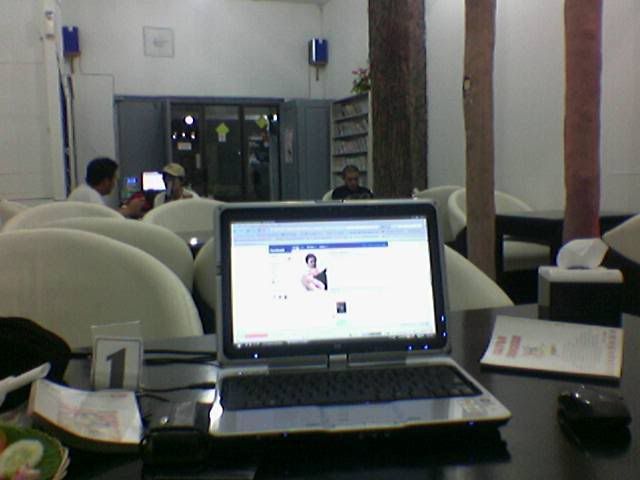 Then there's
QQ
, a place to drink bubbledrinks. The internet was pretty slow, so we headed for another place.
I recommended a small little place called
The Comic Garden
, located far away from Sun Plaza, on
Jalan Percut
near
the Madong Lubis
intersection, it's a place to eat, where you can read comics freely and connect to internet with reasonable speed for free also. The cafe's design is pretty cool, too. The food is OK.
Here're some pictures from that place :
Oh yeah, have I mentioned I've bought a new pair of glasses? Hehehe...
Below is Dabin Sutoso, reading "Rainbow"
This awful picture shows my new titanium Oakley.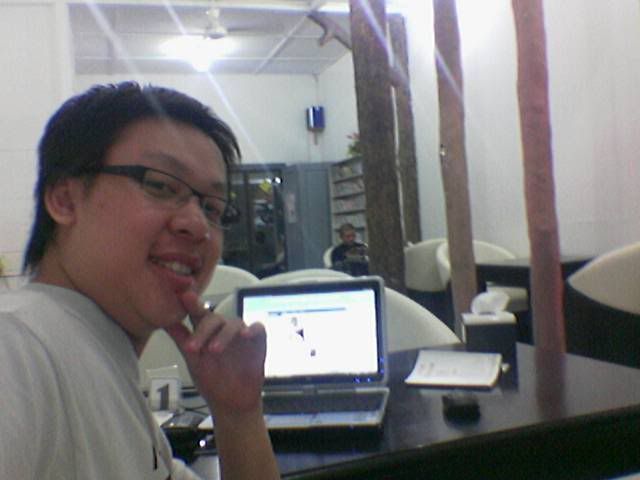 Below was Dabin's Martabak Mesir...
And his cold Milo.
The environment...
Yeah.. those are artificial wooden pillars.
The Comic Bookselves.
It's a great time! Hehe.. I think I'll come here pretty often seeing I've created a Membership card for this place. Hehe...

And you know what, for the first time an entry is posted "live", right in this precise moment! Haha, yes, I'm still in this cafe right now. Dabin is beside me, reading more comics.. lolz...

See ya in the next post! Good night.