Doraemon
is one of my all time favourite japanese manga of all time. Always has been, ever since I was in Elementary School watching him every Sunday morning. Now, years and years later, this story of a robotic cat from the 22nd century
never
ends.
Really!
Doraemon has no ending!
The series author, the
Fujiko Fujio
duo never discussed the official ending for Doraemon, and then the author's death in 1996 had left Doraemon with no ending.
Of course, there are a few versions of Doraemon's finale episode, but they are all fan fictions. The best one of all
(
also the most touching one
)
is the one written by
Nobuo Sato
and the manga version by
Tajima T Yasue
in 2005. I read the story years ago thru a chainmail in my email inbox. It's quite popular, too.
Below is the final manga of Doraemon according to Sato
/
Yasue. It's been translated to
Bahasa Indonesia
, though. You can read the english and japanese version
here
. Prepare to cry.
(

this manga is read from left to right -->

)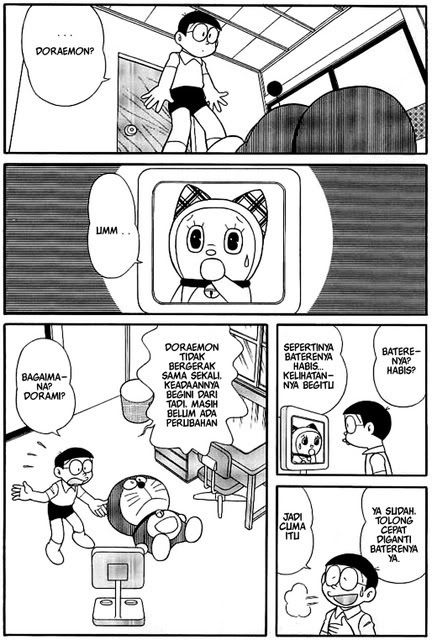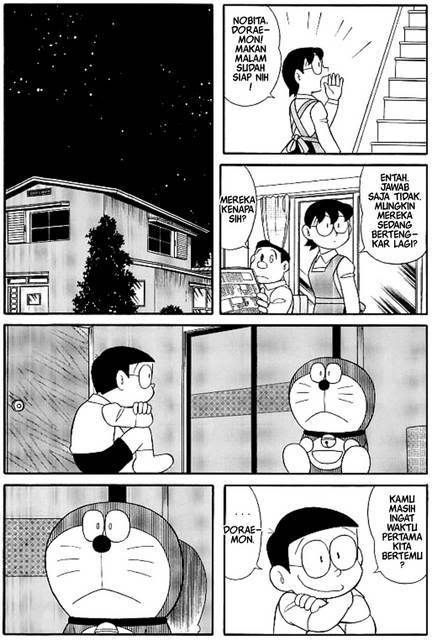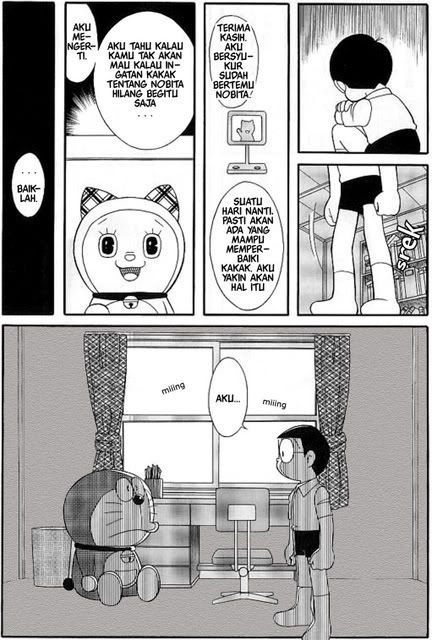 Few years later

. . .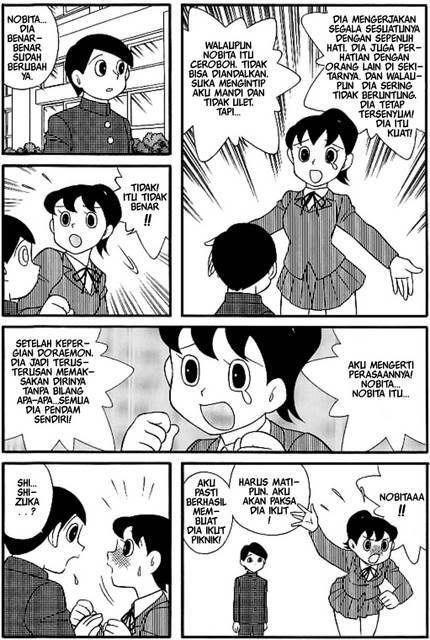 Many Years Have Passed

. . .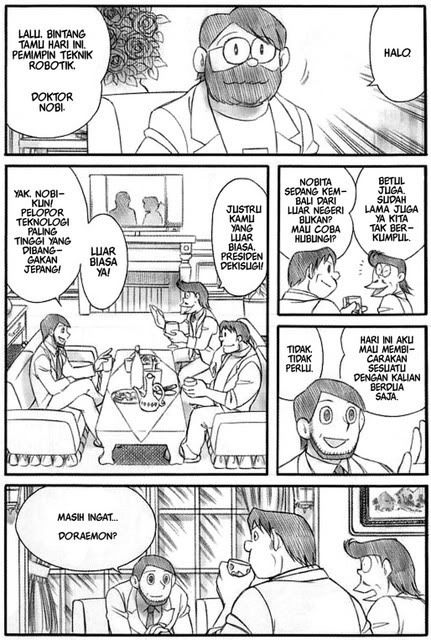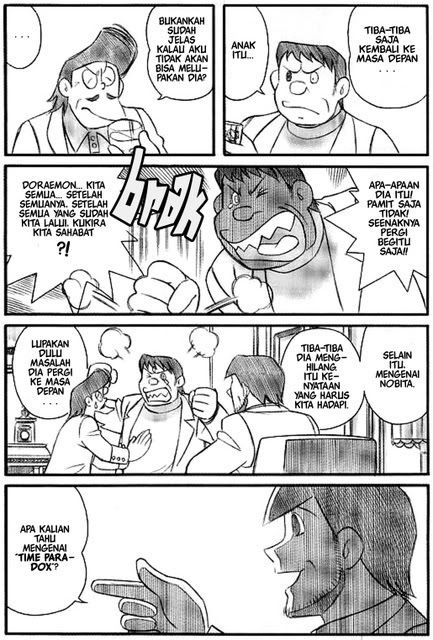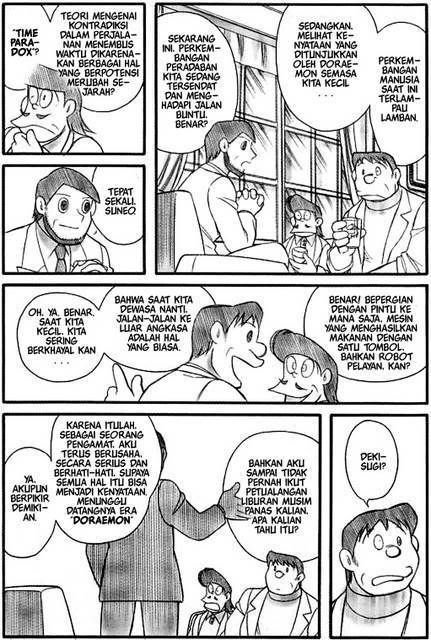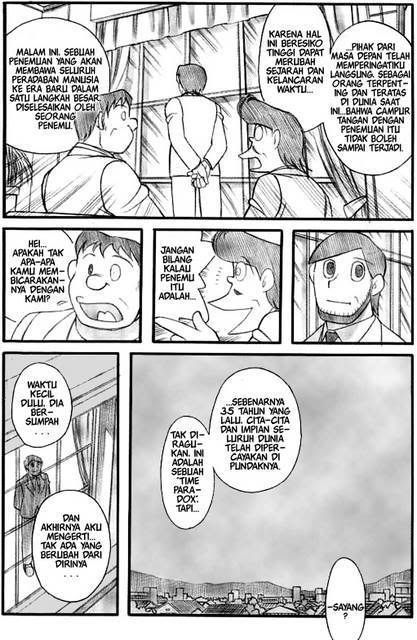 Apparently, this manga was sold over 13,000 copies before Shogakukan halted its publication. Tajima apologized to Shogakukan in 2007 and paid an undisclosed amount of money for settlement.

The other ending is less optimistic one, for it suggested that Nobita suffer from autism and all of the stories, Doraemon, the adventures, all of that, wasn't real and only existed in Nobita's realm of unconsciousness. This ending was so bad that there were japanese people protesting outside the Headquarters of the publishers of the series before they found out that the ending wasn't true.

Below are several scans for this hateful ending.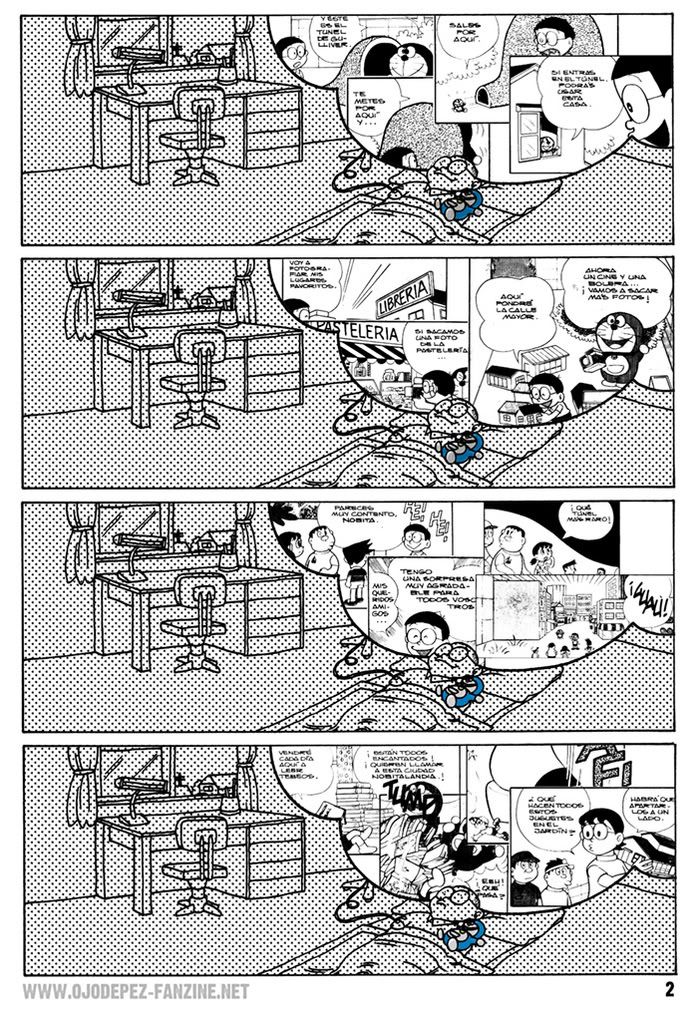 The third ending suggests that Nobita fell and hit his head on a rock. He fell into a deep coma, and eventually into a semi-vegetative state. To raise money for an operation to save Nobita, Doraemon sold all the tools and devices in his four-dimensional pocket. However, the operation failed. Doraemon sold all his tools except for one used as a last resort. He used it to enable Nobita to go wherever he wanted, whichever time era he wished to go. In the end, the very place Nobita wanted to go was heaven.

But ending or no ending, Doraemon will always stay in our hearts, because this adorable cat who recently has become Japan's first Anime Ambassador, has stolen a place in our hearts that will never ever be tarnished.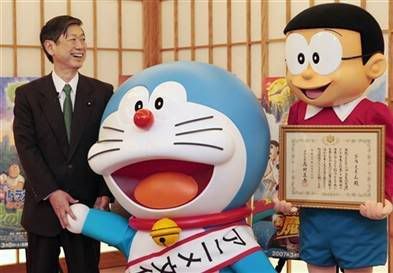 .