It's the kind of feeling
you wouldn't experience everyday, waking up at early hours, going to work all day until the sun was down, meeting friends at
Starbucks
, meeting more friends at
Sun Plaza
's third floor, having dinner at
Bakoel Ubud
for the first time, karaoke-ing at
NAV
'til the night dropped, or 'til your jaw did, and then staying over night in your friend's house, trespassing at Midnight...
All of them you went through with a big stomach ache and a huge urge to poop. Except you couldn't. And the emergent poop was stuck in your colon for thirty hours straight.
OK, let me rewind...
(
DJ Music screeching
)
Hello again!
Whoa!!!
Three posts in one day. That never happened before. I thought I wouldn't have the time to upload all the photos and edit them and write this entry today, but hey! Turns out I can.
It's all because Dabin said he couldn't make it to the
GoKart
tonight, since his mum is in town and he has to be there with her. It's totally cool. I was not in the mood of driving anyway, I felt more like blogging, which is one of the few things I love to do.
So here I am, blogging again, for the third time today. And tonight, I'm gonna bring me back to last Friday when
Jimmy
was still in Medan with his coworkers,
BJ
and
Merry
.
Like I said, we met at Sun Plaza, for it was like the only good place in Medan to hang around. We were having dinner at
Bakoel Ubud
, first time for me there, since I never really fond of Indonesian Traditional but Elite Cafe. But that time was exceptional, since there were funny people with me.
I also met
Suyanto
, a drug-specialist from UK whose ambition that night was to find beautiful girls and ask them out.
Dabin
was on a strange state himself. We ran in to
Sephei
, his ex, moments before we had our dinner. He hadn't met her in five long years. And a lot had changed. I'd better not divulge here. It's not my place.
Jimmy and BJ were still the same. I've met BJ before, on the first time he went to Medan with Jimmy. He is cool. And he was wearing such a seductive shirt that said "
You can only read this if you're sitting on my face
" or something like that. Cool! You can see it from the pictures above.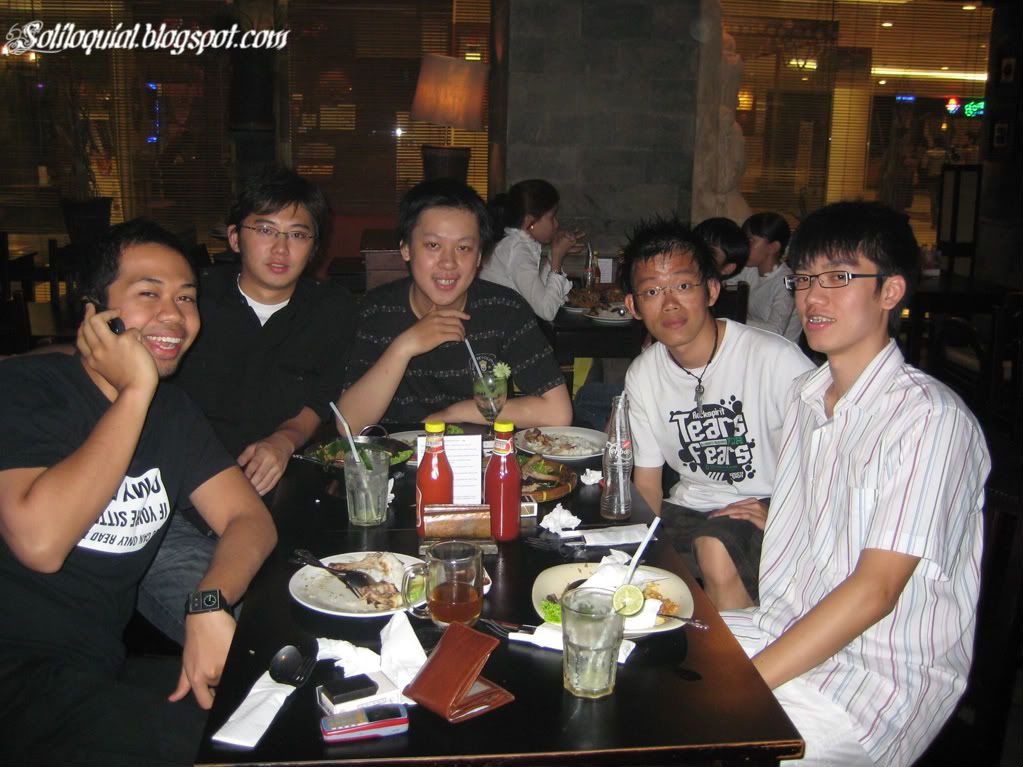 The food at Bakoel was great, no wonder there are lots of Indonesian Celebrity there from time to time. Though it was expensive dishes, we ordered quite a lot and were pretty satisfied.
There was a big screen playing
Tom and Jerry
in the Cafe, and Jimmy couldn't get his eyes away from that show. I'd never thought that Jimmy was a fan of
Tom and Jerry
. Hahaha...
The dinner was great. We ate and talked. We noticed girls too. But at all times, my stomach was scowling and growling, not because I was hungry, and not in a good way. I was fighting the urge to poop. Oh dear...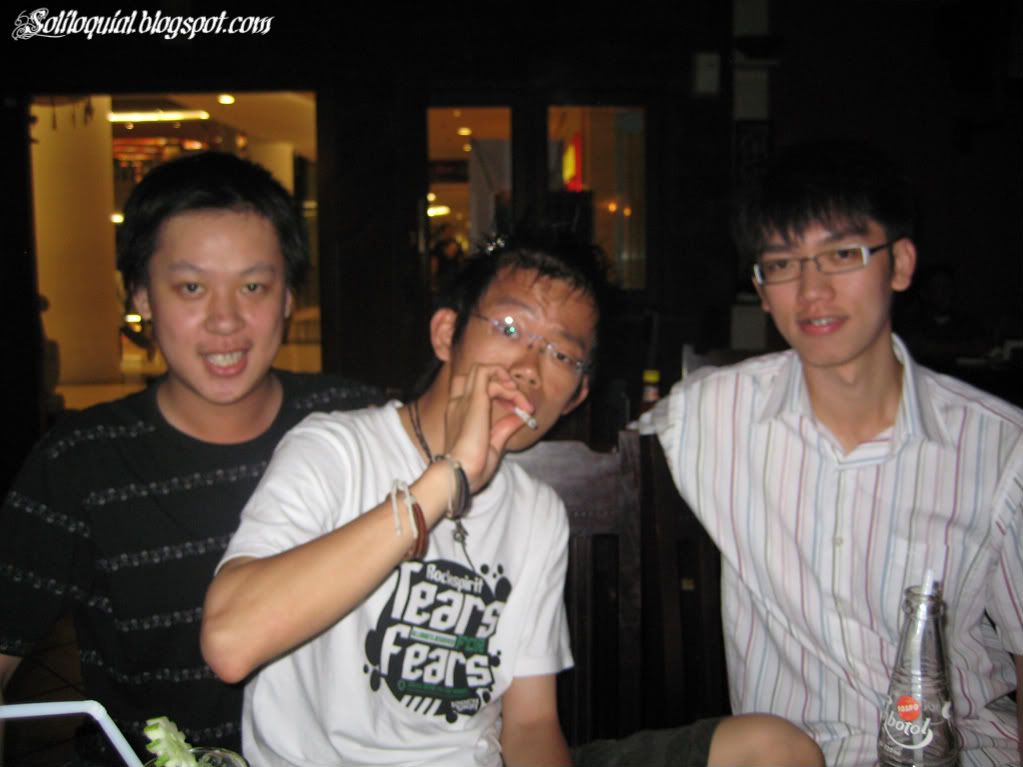 But I was not the only one. Dabin was also in need of a toilet too. Hahaha.. But we shunned that idea away from our heads, since we were planning on going to NAV Karaoke later after the dinner.
Merry
is Jimmy's other coworker. She was from Medan, and she was with us in the Bakoel, though she sat separately since her friends were there too. But they all joined us in the Karaoke session that night.
Suyanto drove us to NAV, with my direction. All of them, except me, didn't know the roads of Medan. I went there first on my own, reserving a room.
This is a big one :
From Left : BJ, Dabin, Me, Suyanto, and Jimmy

Here are the pictures from the Karaoke at NAV.
From Left to Right : BJ, Suyanto, Jimmy, Me, Nova, Nova again, and Merry with the glasses.
The Karaoke was really really fun. I've never had one that's more hilarious actually. The first few songs were all rap songs and rock songs, from
Linkin Park
to
The
Red Jumpsuit Apparatus
. Man! I'd lost my voice as soon as
Your Guardian Angel
song ended. Jimmy was the great one. He could scream and pull his voice flawlessly. Amazing!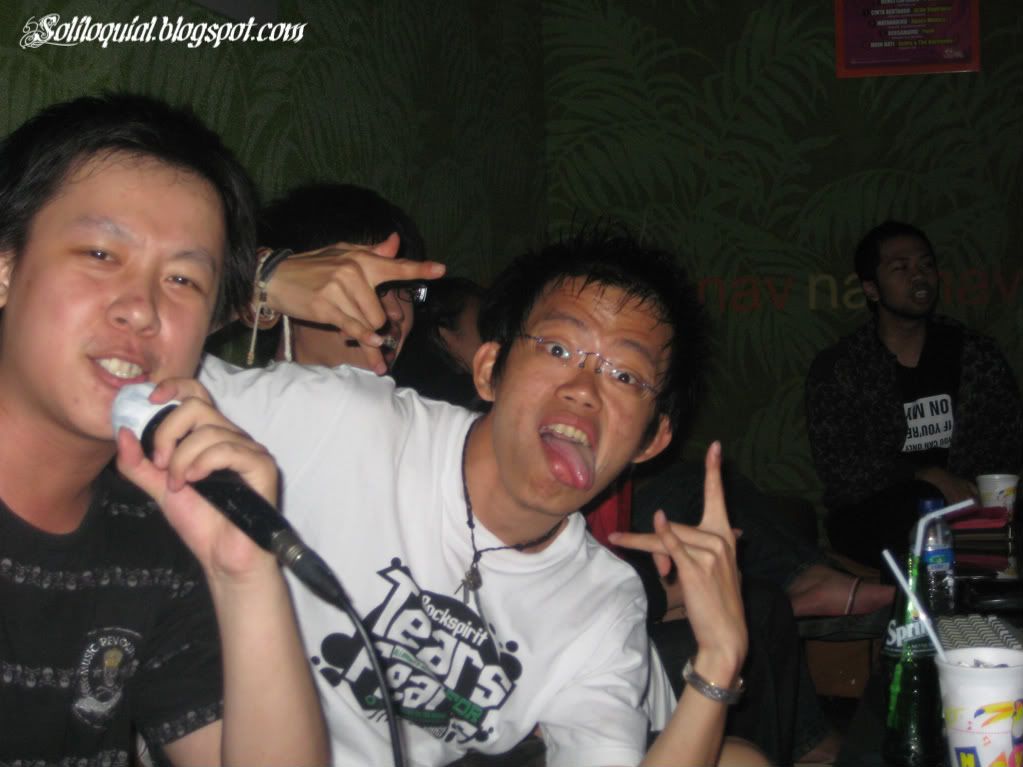 All the time, we're laughing until we dropped. Applause and Cheers never left the room.
I think Suyanto was about to hug someone. Jimmy, perhaps?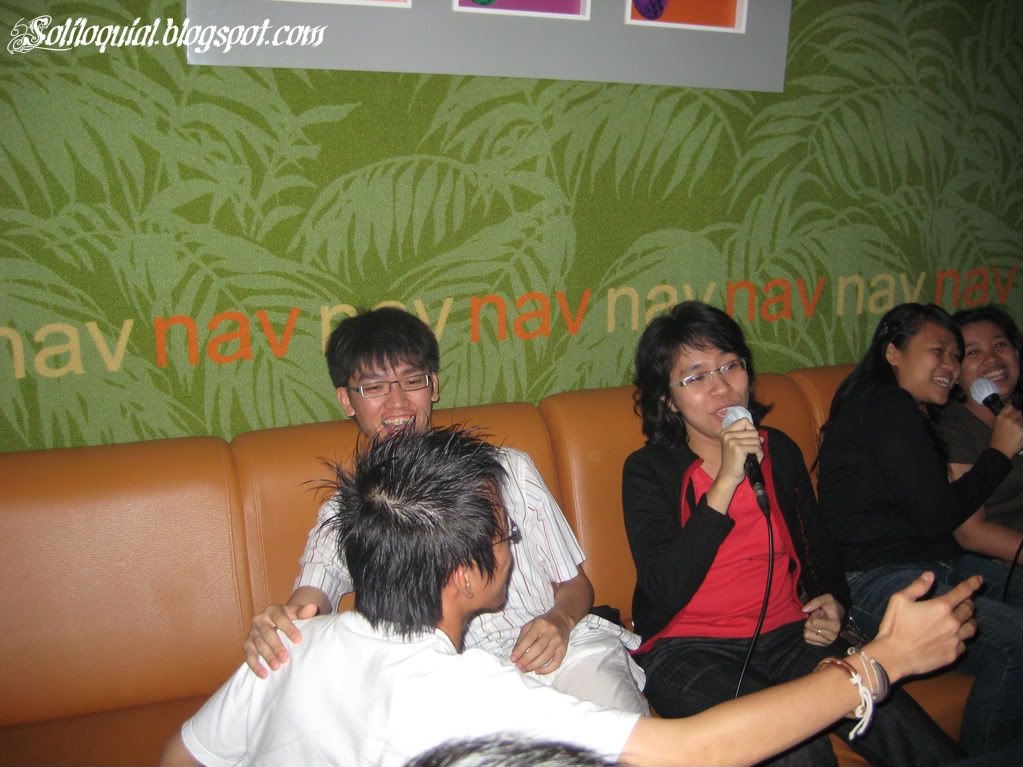 Oh, no. It was Merry. He was trying to hug her. :D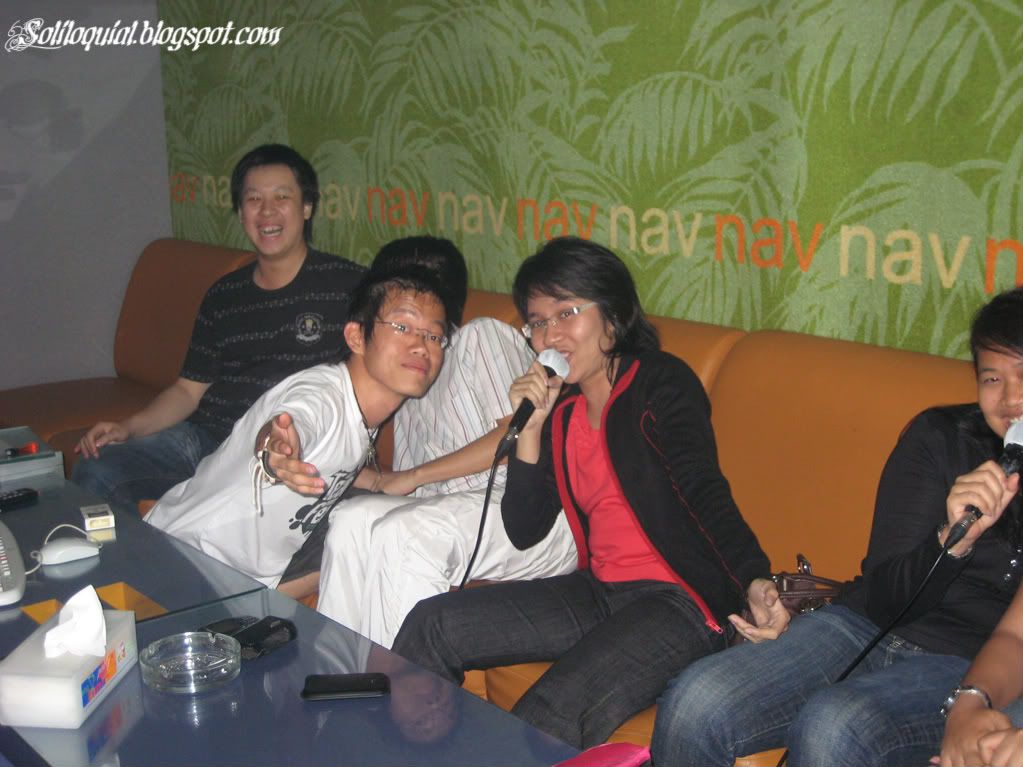 Those people were insane. They made me insane too. Even Dabin, who was really reluctant to sing usually, was singing at the top of his lung! If you know him, then you'd know that it says something.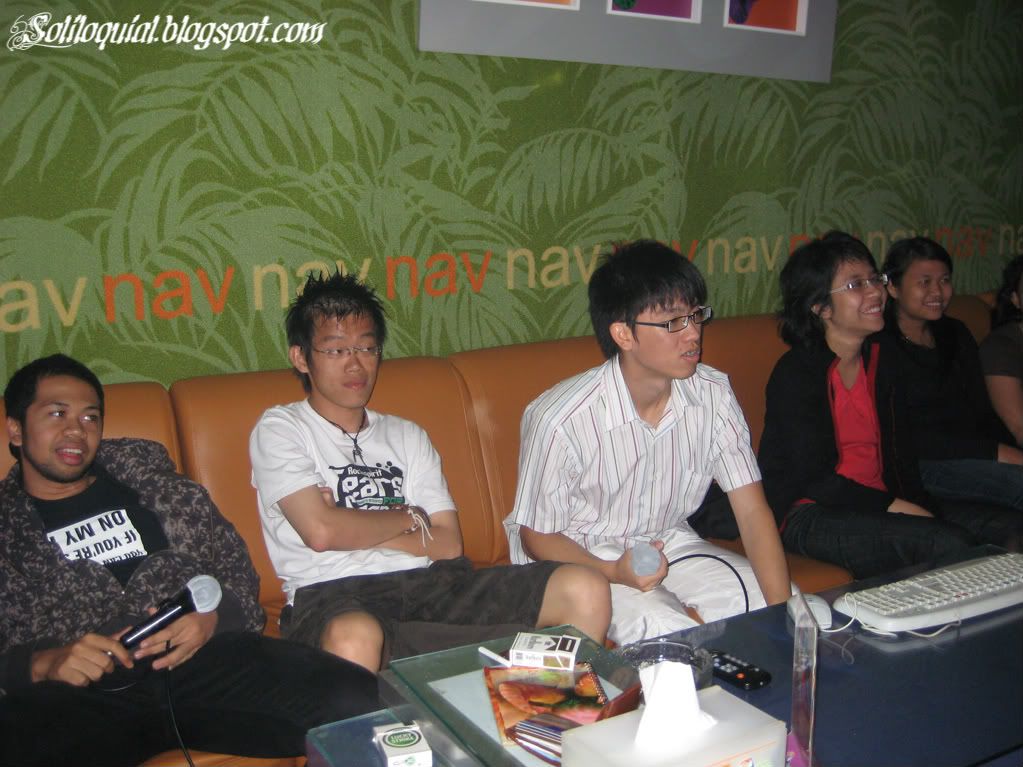 There were lots of time when we're not shy to dance it out! This picture below was from the Bataknese song "
Situmorang
". Dance! Yeah! Hahaha.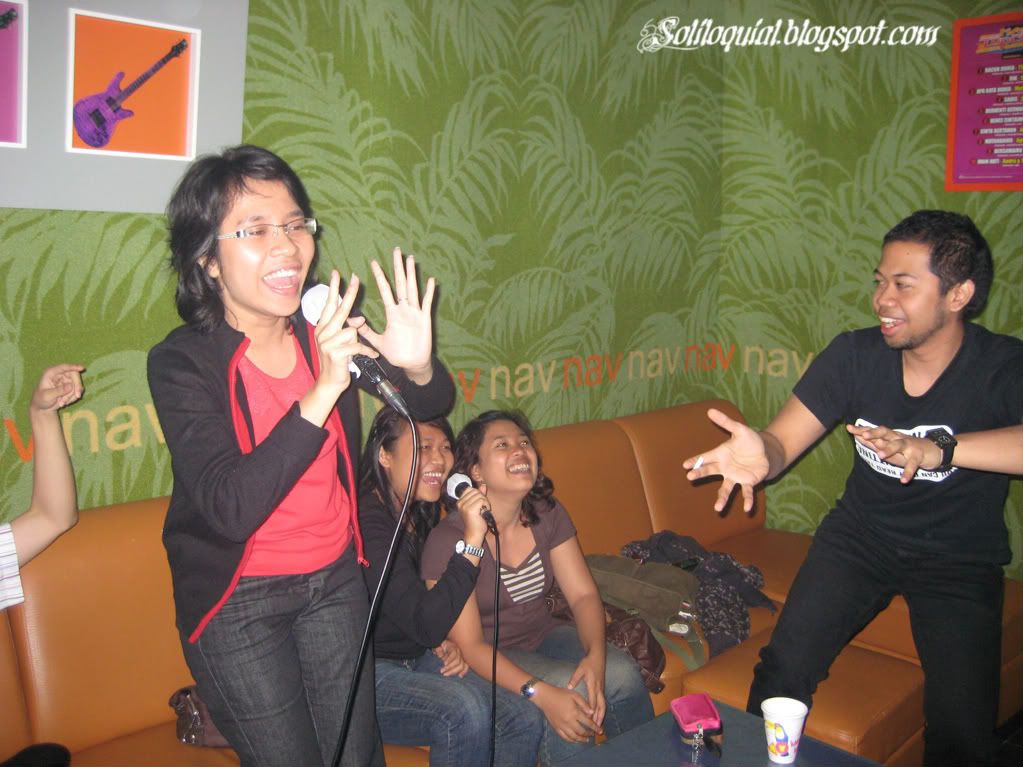 And when we're singing a Hokkien song "
Sui Ca Bo
", or when we're lamenting the infamous "
I will survive
", all of us were singing, mike or no mike.
This is Dabin Sutoso. The man! Hohohoho.
At last, the night seemed to end too fast.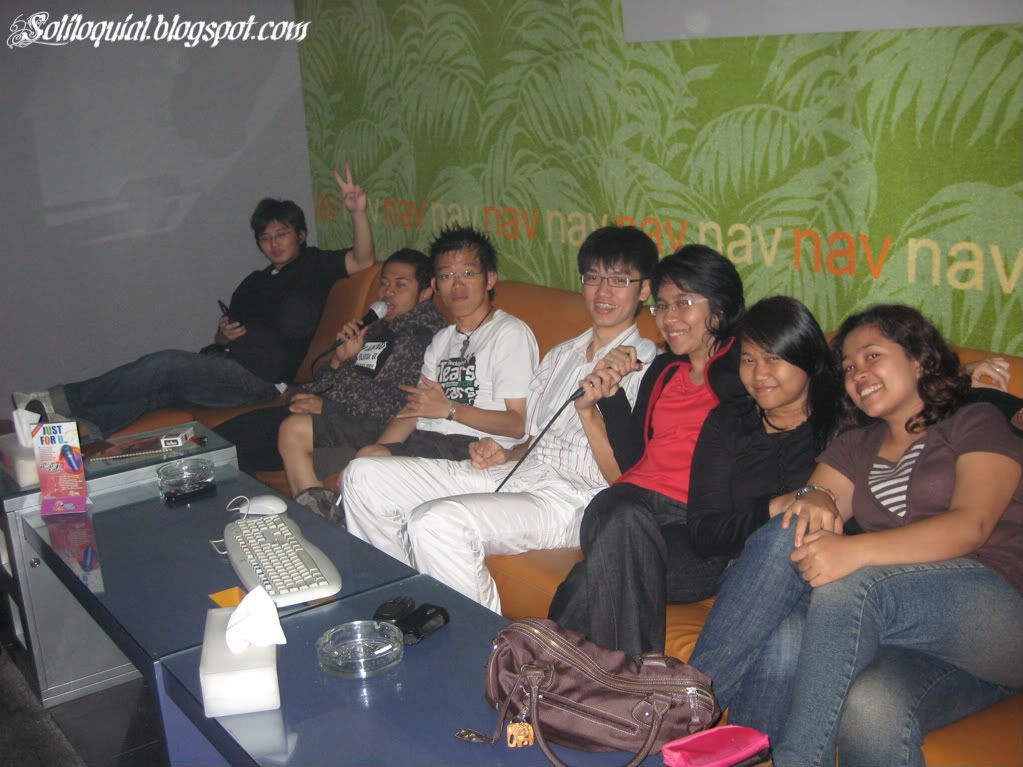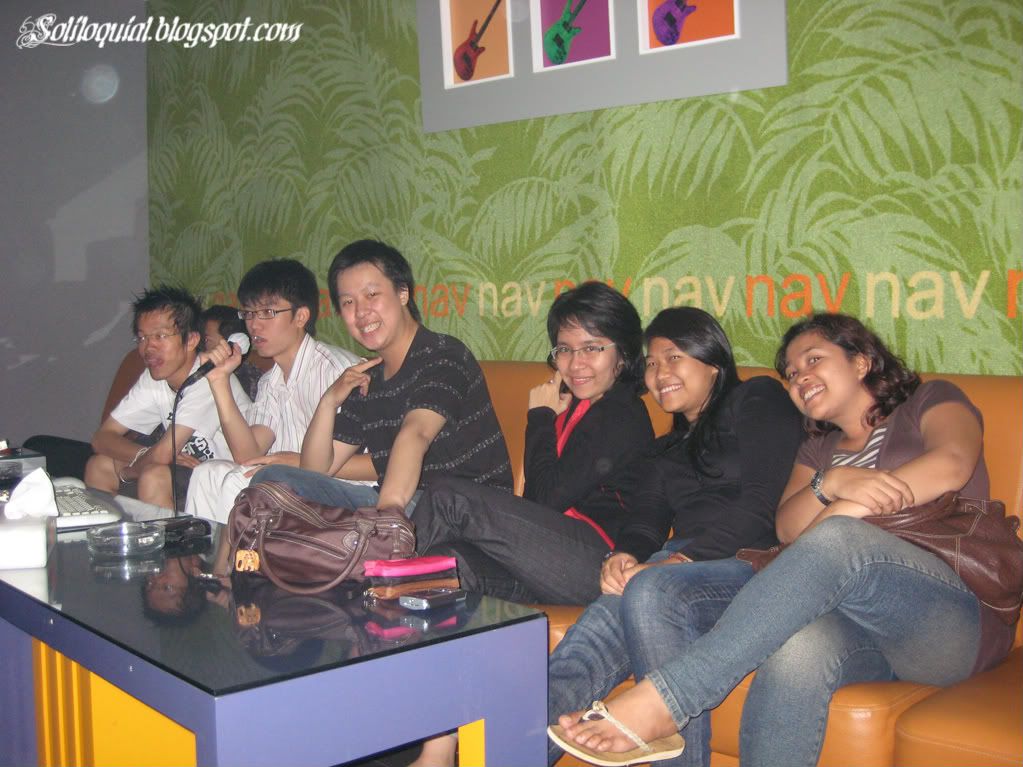 I, had a superb time.
But I still gotta poop! :P