But was it a reunion if there're only eleven people attended? Haha. It's more to common hanging out thing than a real reunion if you ask me. But hey, we got a lot of pictures out of it. So there you go, below.

I still remember the reunion I came to about a year ago. There were like twenty or more people around, and that's still not enough. A reunion is supposed to be a big thing, big party, and a well-planned event. But having a reunion prepped isn't as easy as it sounds. We must find a place and time that suited everyone. And with these people's tradition here about time and place, it can become really challenging. Ah.. maybe one day I can arrange a big reunion party at a more formal place, and is planned a year before the exact date. That way, all of them can fit it to the schedule and actually make it. Hahaha…

Everybody is either graduated, has a girlfriend, owns a boyfriend, or even married. I mean, it's only three and half years since our high school. Things sure have changed. I just surprised how fast time flies.

I miss high school. There are a lot of things I would really change and do if I could go back in time and live a high school moment once more. I am sure lots of you wish to experience high school again. Suck or not suck, it was still a time with plenty of friends everyday. Complaining about homeworks, examinations, class's name, class's shirts, events for teacher's day, gossipings and puppy loves, chocolates on Valentine days, conflicts with friends, with teachers, beautiful songs to recollect, skipping classes, neo-printings, travelings, and farewell parties, both official and unofficials.

I can remember how I was feeling lonely at those times in high school. Compared to now, I was more un-lonely. I used to stay at my friend's house, stayed over, just playing games, chatting, and doing useless activities. I can't do that anymore. He's gone overseas. I used to travel in my friend's car, far away from home, figuring what to do in our free time. Now we can't do that anymore. The car has been sold. I used to hang out with these six dorks and we called ourselves el_se7en. Now we can't gather anymore. Everybody has gone to different places, living different lives, doing different things. Things sure have changed. Sometimes the phrase "Friends Forever" is NOT enough.

Well, I guess no matter how much we miss the old times, we can't live it back. But we can try to do that in the present time. One day, there will be a moment. And that moment will be remembered by us thru the rest of our lives.

Happy Friendship Day! Enjoy the pictures.

The following took place between 1 p.m. and 4 p.m. on January 7, 2007
We're too lazy to stand up (maybe becoz we ate too much), so instead of that, this is the sitting version Hahaha..
(click to enlarge this one)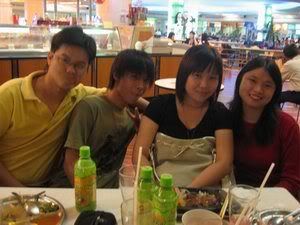 From left : Akok, Erick, Cath, Imelda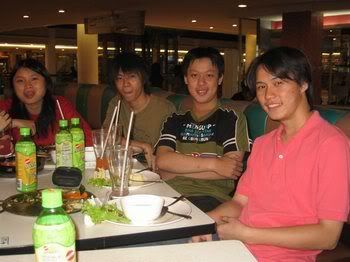 From Left : Imelda, Erick, Brad Pitt, Acok


From Above (hehe) : Johan, Ariel Peter Pan, Cokro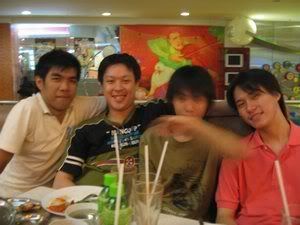 From another left : Martin (Luther King), Will Smith, SadaKo (male version), unknown beast ;p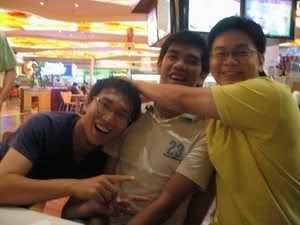 Seriously, from left : A On, Yu Cheon, HAW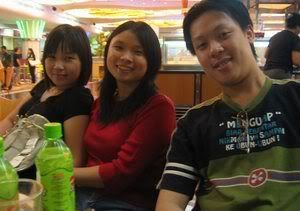 Me and two beautiful women.


That's Vargo and Linda, btw. ;p


There's a reason this photo is smaller. Hehe.. Cute, are not I? Wakaka.. Please vomit. Do.