About three years ago
, the cast of
Friends
said goodbye to each other, to the most successful sitcom ever existed, to a whole world of fans, and to me, though indirectly. "
Friends
" is my favorite TV series of all time. I can watch and rewatch it for like zillions of times and still find it funny every time.
Now that
Friends
only live in reruns, for me it's always here. It is my friend thru my hard and happy times. It has been my best friend for all these years. There's nothing I would rather do than sitting on a comfortable chair, turn on the DVD—or VCD back then, and have an episode or two from the old jokes to cheer me up.
I am a big fan, a loyal fan of the six,
Ross Geller
(
David Schwimmer
),
Rachel Karen Green
(
Jennifer Aniston
),
Chandler Muriel Bing
(
Matthew Perry
),
Monica Geller
(
Courtney Cox Arquette
),
Phoebe Buffay
(
Lisa Kudrow
), and of course,
Joseph "Joey" Francis Tribbiani
(
Matt le Blanc
). For them, and for millions of grateful fans, I dedicate this post to, remembering once again, how the story ended.
Two days previously, I found my old piece of VCD. The phrase "
The Last One
" was written on it. It contained forty minutes of the last episode of
Friends
. And, as I had done so hundred of times before, I put the disc on and watched—once again—how Gunther confessed his unspoken love to Rachel, how Chandler and Monica were shocked to their brains when Erica delivered not only one baby, but two; how Ross finally realized Rachel was meant to be with him; how Phoebe
still
came out the word "Phalangie"; how Joey and Chandler were forced to bust the
foosball
table open to save the chick and duck jr.; and how Rachel got off the plane in the end.
As bittersweet as it had been, I still remembered the time I watched the Finale with the two other crazy fans like me—my older brother and my little sis. It's funny, as I recalled I was having a row with my brother—actually, we are never not having one. But when I got the finale disc right in front of his eyes, all problems were forgotten, all awkwardness was subsided.
Friends
shut us off. Kept us silent and only shouted and yelled at the right time.
There are scenes from
Friends
I can't just take off my mind. Every time I remember any of them, I beam and I smile. Every time someone tells me some dialogues from
Friends
, I interrupt him and finish the whole sentence. It's great having something good and cheerful inside of you. Inside of me. I'm so thankful for
Friends
and for me to have ever learnt about it.
The story inspired me more than everything I've ever known. And it got better. It made me laugh.


Oh, how very clear I remember this one.

Rachel was going to be flying soon, and Ross was having less and less time to chase her and tell her about his feeling every second. But as he had arrived at JFK, he was confused about the flight's schedule, wondering if he'd somehow mixed it up. So he phoned Monica to ask for the correct information details. But apparently Monica was too excited about her new babies…




Erica was one of Monica's new born child whose name was derived from her real mother—Erica.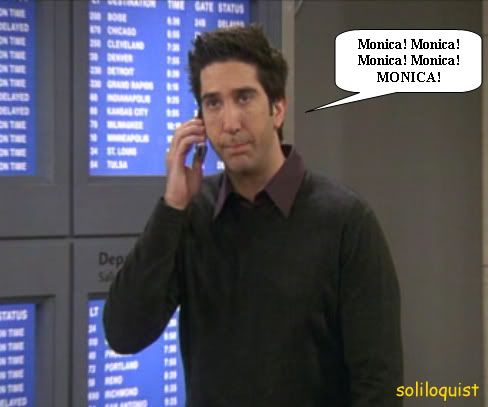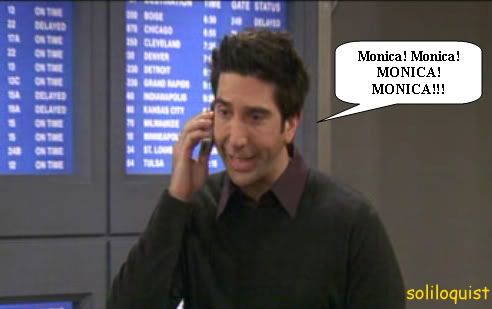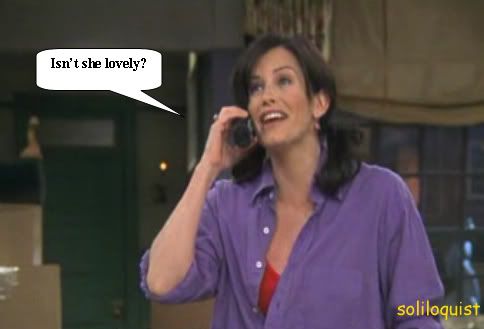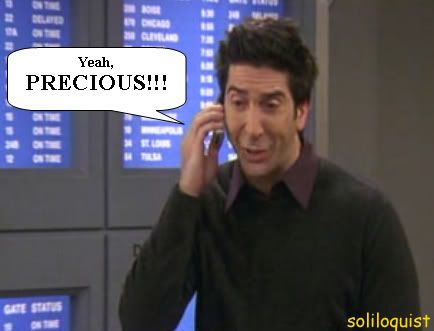 Despite Monica's unconscious vexatious playing-with-cute-babies-noise-and-sound attempt, she filled Ross with the information eventually, from which he learned that he and Phoebe were at the wrong airport. Rachel was at Newark airport, one hour away from him.

But after so many funny and ridiculous ways, Rachel's flight was delayed and Ross was able to meet her just before she took off. But she went on anyway, leaving Ross and his heart shattered, refused to believe what had just happened.

Ross came back home without Rachel.

It was after some funny stupid so-not-romantic message on Ross's phone, we knew that Rachel got off the plane…




I remember I laughed for minutes for that unexpected joke. Man! They were brilliant.

But then, all was said and done. After everything, the show had to end…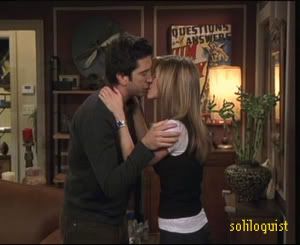 … either happily ever after or not, there will always be a rerun.




And so will my life.


Recently, I experience reruns everyday. All for the same boring day I can't even remember. Doing things as a routine, doing things exactly as planned. I would really like to alter my ways of living.
I figure if I need to live more differently, I may as well start to do things differently. So I promise myself to do one thing new everyday. And it starts now. For today, I will post an entry I never think of.
Earth Day
(I know, I am a couple of days too late. but whatever. It's for good sake.)
Do you love the earth you're living? If you do, then you should at least take one day out of three hundred and sixty five, and remember it as the Earth Day. Then on this day, you are not to damage the earth by any means, like throwing garbage everywhere, smoking, or not turning off the light when you don't need it.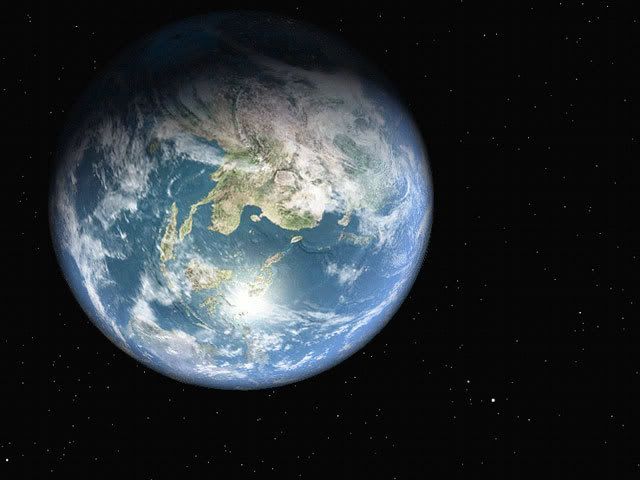 It would do you no harm to look into these websites and learn what you ave to do to support the Earth Day.
http://www.worldchanging.com/planet/
http://events.yahoo.com/earthday07/
Read how badly damaged our earth is now. Here :
http://www.earthdayenergyfast.org/


See? We can make a difference, I can make a difference. Why don't we?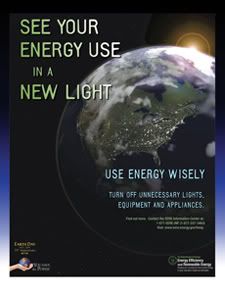 Happy Earth Day 2007!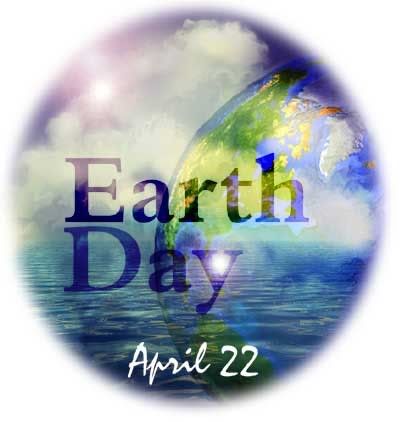 Well, sort of… two days ago…


That's it, I think. One different thing I did for today.

Cuz I don't wanna live in reruns no more.

I just wanna… run.