People say we're watching our lives through a glass

I know you're out there holding on, holding out for me

Maybe you'll take me by surprise

Will you be the one I had in mind
I've been visiting
illusionary website
s
for several hours today and I think it's time to stop for a second and recount my "reality" last night to you. All I did today are now posted below altogether with my story last night.
So I went to Sun Plaza last night to have a dinner with Novi. It's been more than two months after my last visit to Sun Plaza. I remember the last time I was there, I watched "The Brave One". Feels like a long time ago.
My evening was enjoyable. I can't remember when the last time I was feeling as relaxed as last night. It's like I had nothing pressing against my shoulder, my mind was more lighter than ever. I felt happy. Thanks should go to Novi.
Whenever I browsed to other people's blogs, whether they're famous or not, they always captured a picture of their food. I don't know if there's some kind of "tradition" among bloggers to photograph their meals before they digest it, probably they want to remember what goes in their stomach, make them memorable... or they just want other people to see what it is they eat.
I rarely take pictures of my meals, delicious or not. But last night, I did. As to why, I don't know... maybe I just like to try something. He He.
These curry-friedrice and classical-friedrice were not tasty, and now I'm wondering why I took these pictures in the first place.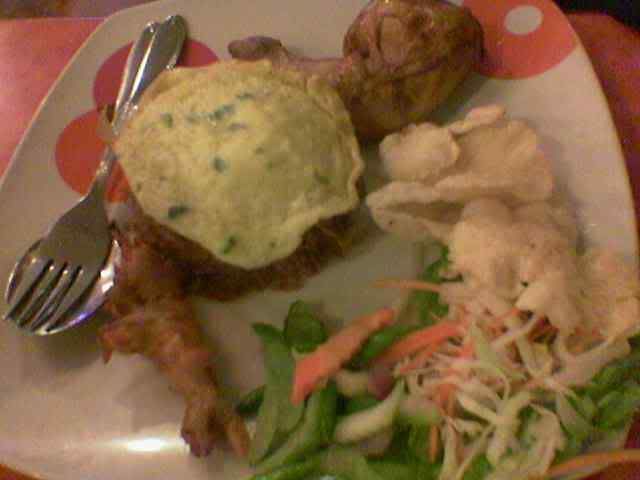 And like I said before, I had my hair cut last night. I have always been a not-know-it-all when it comes to hair style. It's so-not my favourite subject and it is so-not my area of expertise. I have no clue how to properly answer a barber or a hair-cutter (whatever it is they're calling it today) what style do I want. So last night, I spotted a guy with a cool hair style and I said that I wanted to have a cut like his.
He understood, the one who cut my hair. I watched the whole progress of my hair-transform. There was a moment when my hair looked very much like Sylar's here below and I thought that it was kind of cool. If only I could stop him right there and said : "Hey. I'm already a Sylar. Stop! Stop cutting me."
But I didn't. And so he kept cutting and left me with a new different style of hair. I liked it at a first sight, but the more I looked at my image on the mirror, the more disgusted I became. I just never had a hair style like it before, so "punk-y". I dare not take a clearer picture after. But I had promised to take one when I wrote my previous entry, so I had Novi captured one or two for me. She didn't get my hair completely so you can't really see the "upper" part of my new haircut.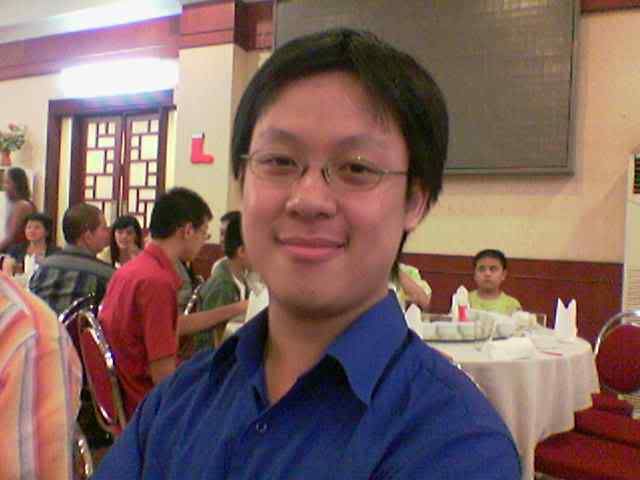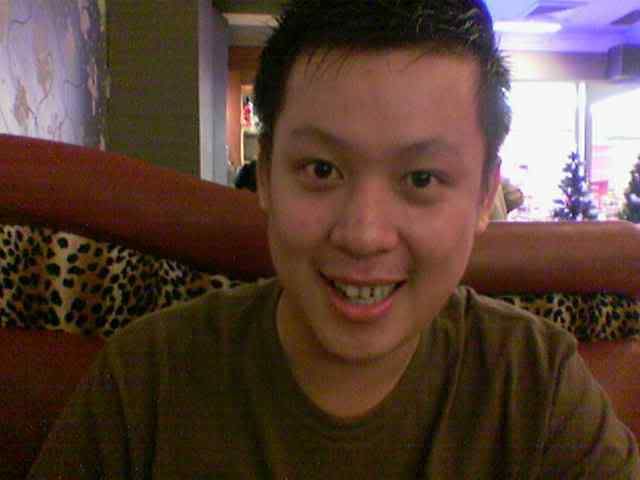 That's the before-and-after pictures of me. The first one was taken by my sister when I attended my cousin's wedding party at Grand Kowloon about a month ago. The second one was yesterday's. See.. the unsuccessful Sylar hair which you can't see clearly and wholly. :P
So that's it about my semi-disastrous hair.
Now about my accident. Yep, I had another motorbike accident last night when I got back from Sun plaza. A motoric pedicab went stupid and careless when I was moving constantly next to it. That stupid pedicab turned left suddenly, not knowing I was beside him. In a split second, despite my ear-breaking klaxon, it hit me and I fell, so did my smashie.
At first I thought my tire was bended somehow because when I lifted her she couldn't roll. But it turned out my brake pedal was the bended one, strangely angled and pushed so the tire stuck.
I managed to let it go and got smashie all "operative" again, except I couldn't use the bended pedal no more on my way home. The pedicab driver did nothing as I scolded him and blamed him for turning suddenly without looking. Eventually, he went away leaving me all pissed and sweaty. I had a bleeding toe and a bruised elbow. Nothing serious though.
That was the second accident I had in two months. One accident per month. Either I was uncannily unfortunate or I had a super careless driving skill.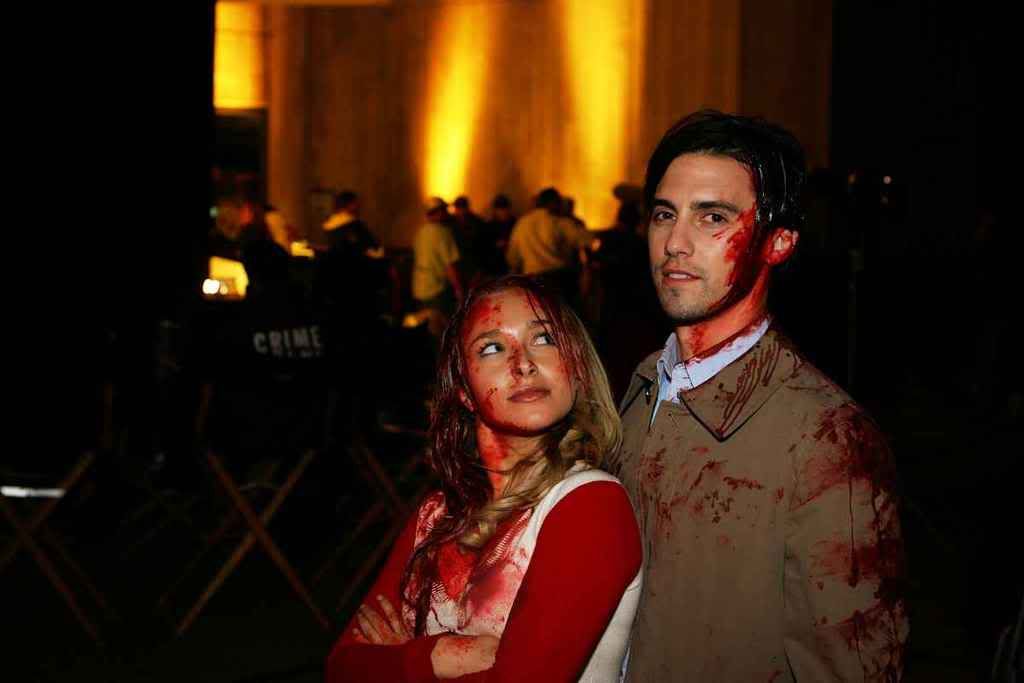 When I arrived home and treated my injuries, I wished I had Claire's ability. But if I can choose one, I would surely ask for Hiro's time manipulation.
Speaking of Heroes, I can't wait for its third installment. Whatever happens to Nathan? But to ease the longings, I download some of the graphic novels of the series. Quite interesting if you like heroes. The comics comes with few additional bonus pictures, behind the scenes or sorts. I collected them all and I thought it would be cool to post some on this blog. Hehe.. Check them out.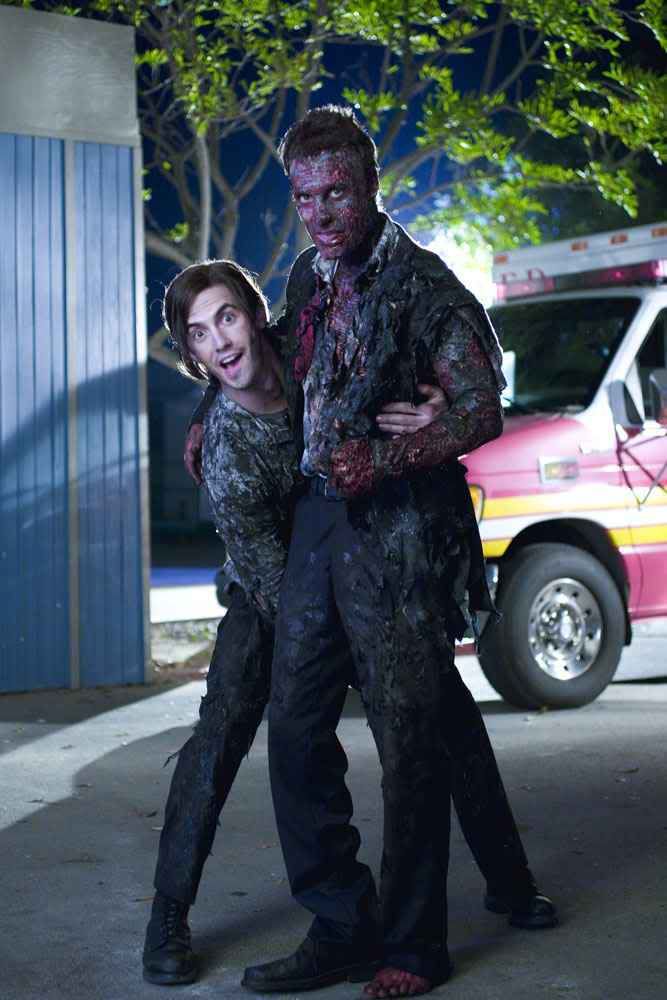 Peter and Nathan right after the bomb exploded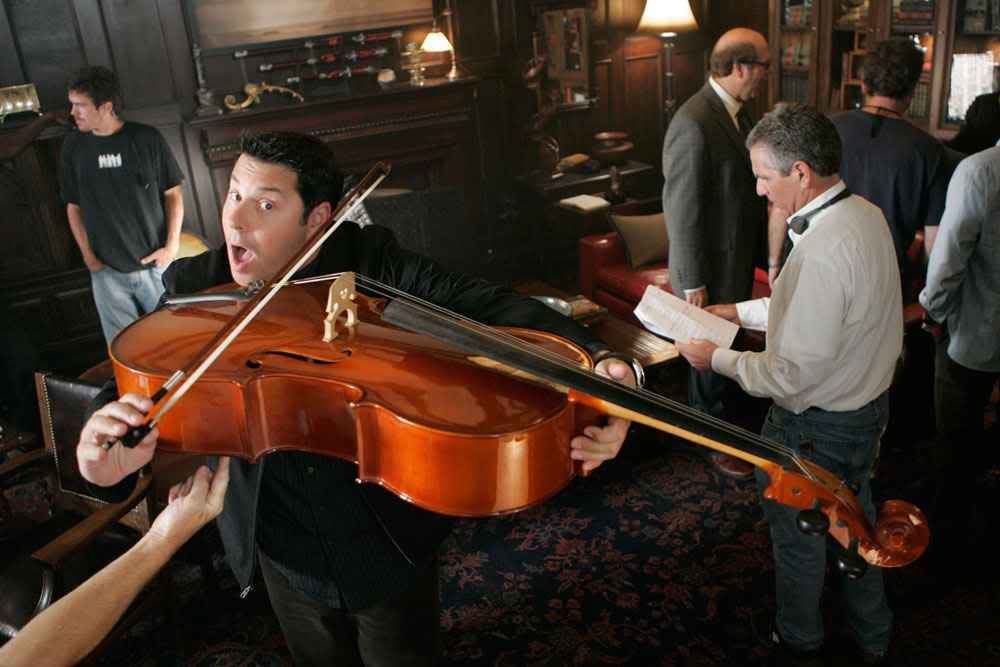 Matt and his "cello". :D

Adrian Pasdar's scary face.

The all-cute girls-adored Peter Petrelli, and Caitlin. Just Caitlin. :P

The cast at Emmy Awards.

And why, even Mr. Muggles!

So I guess it's time to close this long-enough entry. I should come back later with my Backstreet Boys special edition entry! Hahaha.. Nothing too special lar... but the BSB post has been on my mind for several days and I couldn't write it because of my brother... hm... more details later.. hehehe.. this is the preview :
Helpless when she smiles...
I can think of some girls who make me feel "helpless" when she smiles... hahaha.. but I ain't gonna tell you. Not right now at least. :P


Last but not least, I created a new gif today, one that I like, and it's the main idea of my entry here... cause I'm looking through my life as I'm looking through a glass right now. Everything blends in, Everyone blurred in and out. Friends and relationships. Everytime I close my eyes, I see one of my friends flashing in my mind...

I think what I'm trying to say is I miss my friends... wherever they are...

and for my soul mate... I know, everytime I listen to the song "Unmistakable", that you are out there somewhere... waiting for me... but I am wondering so many things...


People say we're watching our lives through a glass
I know you're out there holding on, holding out for me
How are we to know the time is right
What if you're here and I'm just blind

Please look in the camera, my friend! :)