When there's a will, I want to be in it.
1. Well, go to google first!
2. Type something on the search bar.
3. Don't hit enter :D
Below are just the products of my curiosity...
Sure... there'll come a day when google is making us stupid... :D Just don't hold your breath.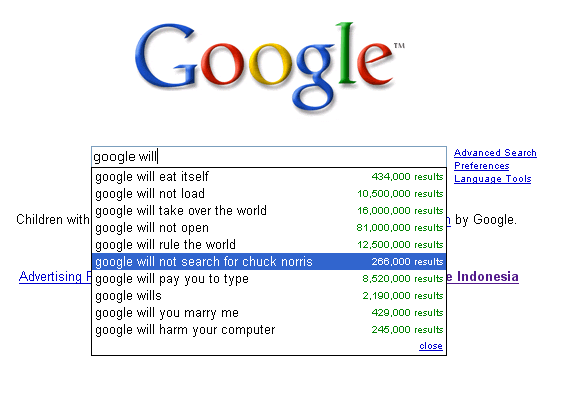 Haha.. I laughed. Google will eat itself?
Google will take over the world?
Highly likely, huh?
Google will not search for Chuck Norris.
LMAO!! I wonder why.
Google, will you marry me?
Huahahahahaha....
Later, Harry Potter crossed my mind, so I thought... "why don't I try him?"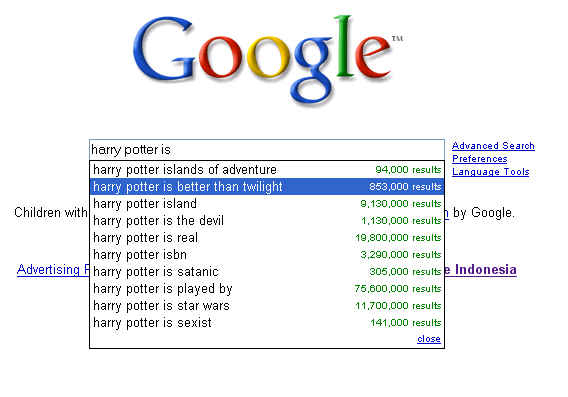 Amongst "
Harry Potter is satanic
" and "
Harry Potter is sexist
", I couldn't help but wonder that more than 800,000 people thought that "
Harry Potter is better than twilight
". Lolz
But of course, it wouldn't be fair if I didn't try to enter "
Twilight is
" as well... expecting "
Twilight is better than Harry Potter
"... but instead...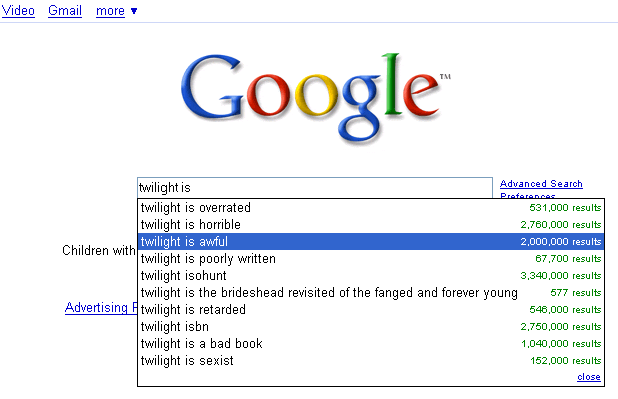 Lolz... Is this proving something? Well, at least Twilight is also sexist... lolz..
Twilight's fans would kill me if I didn't try this somewhere else... so I went to Youtube :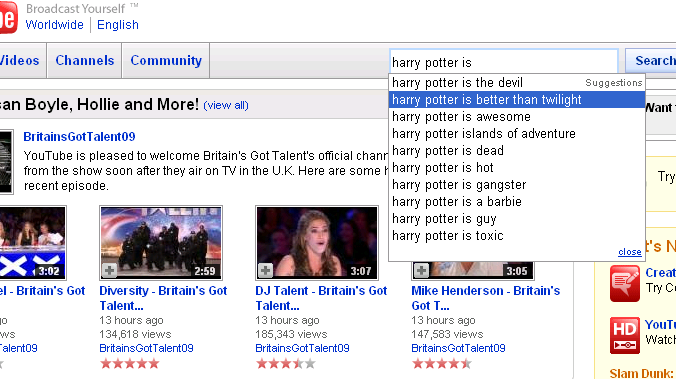 And there it is... The same result... although I began to question the credibility of You Tube users as soon as I read "
Harry Potter is a barbie
" suggestion.
But then :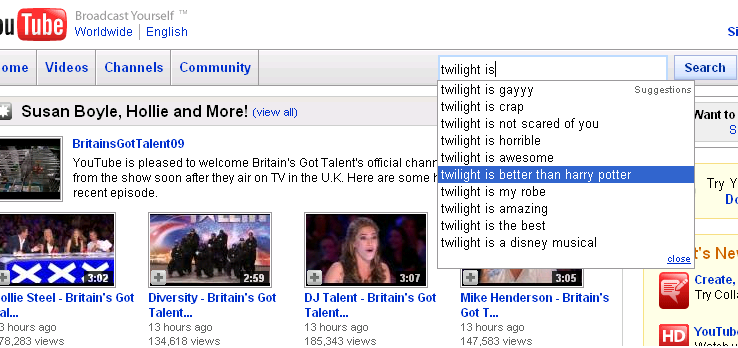 Finally! Twilight beats Harry Potter in You Tube! :P But it also says that "
Twilight is gayyy
", with three Ys. Lolz
Then I remembered Obama.. the first black president of america...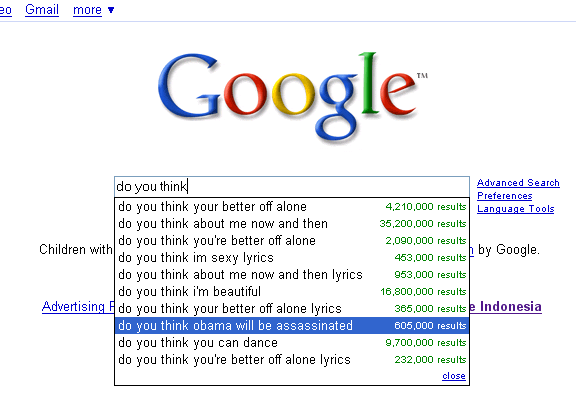 It looks like when Google asks a question, google has the answer.. :p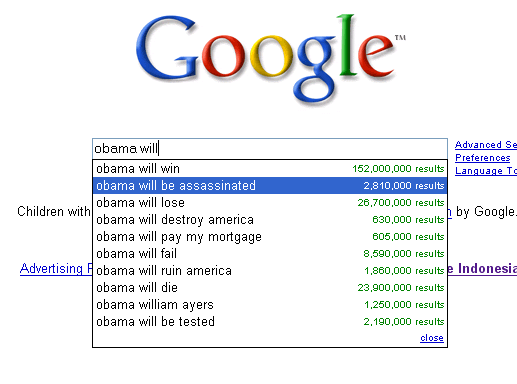 Lol again! He will be assasinated, huh? But the negativity doesn't stop there as you can see... "
Obama will destroy america
", "
Obama will fail
", "
Obama will ruin america
", and the strangest of all is "
Obama will be tested
"... for what? lolz.
And then I typed "
Obama will never
", hoping it would show "
Obama will never be assasinated
"...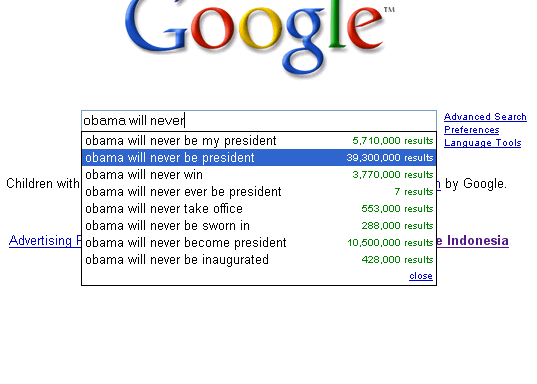 But it turned out this way. Wake up guys! He
IS
the president now! Lolz...
But perhaps only googlers thought that way, because Yahooers...
They are more realistic :P
But after that, I put random words and kept getting funny suggestions :D
Like :
What's the worse thing than cannibals, one asks... ?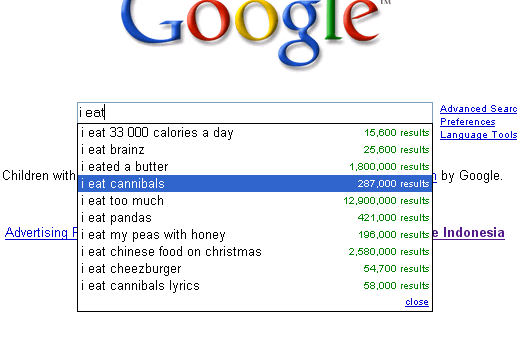 It's when you
eat
them.
LoL
And now confession time :
YOU WHAT???
What about your girlfriend?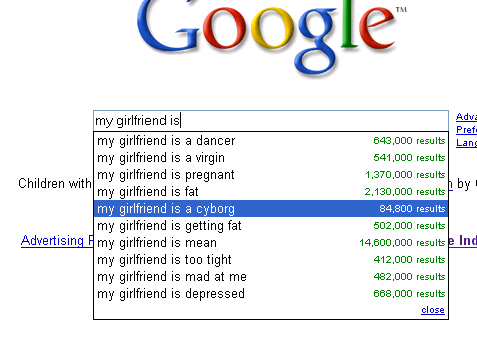 Oh really? Cool!
AWWW! Sorry! Lolz
Do you know the difference between boys and girls? When boys are talking about their girlfriends ...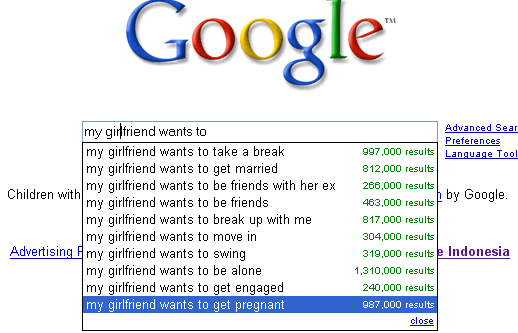 But when girls are talking about their boyfriends ...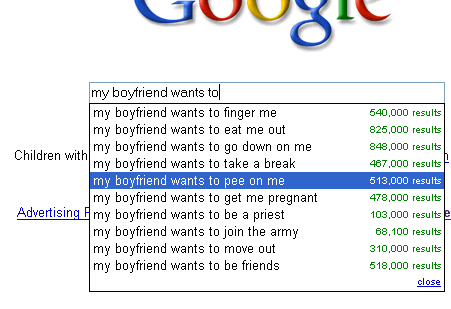 I mean,
REALLY???
Hahahaha...
I guess in times like that ... when your boyfriend wants to pee on you, you can always say :
"WHAT THE DUCK?"
People on earth are strange...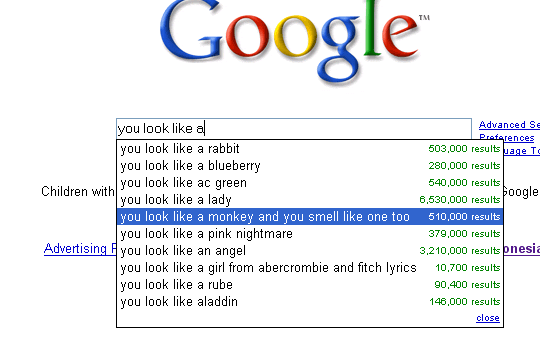 They look like a monkey and smell like one too
:D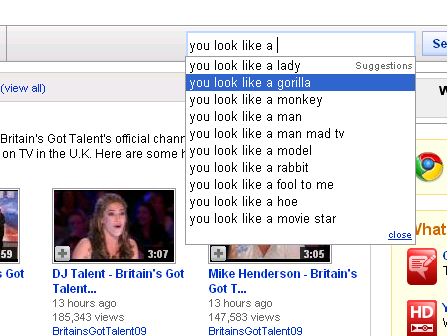 And in You Tube, people look like
gorillas
... or
movie stars
... or a
hoe
:D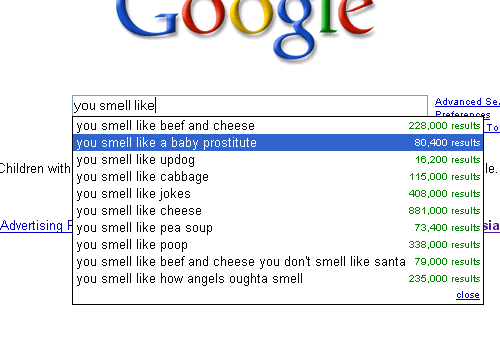 What is baby prostitute? Lolz

Beyond that, things get a little insane...

This I found when I was surfing earlier :p
Read the last entry...

What's happening with people? LOL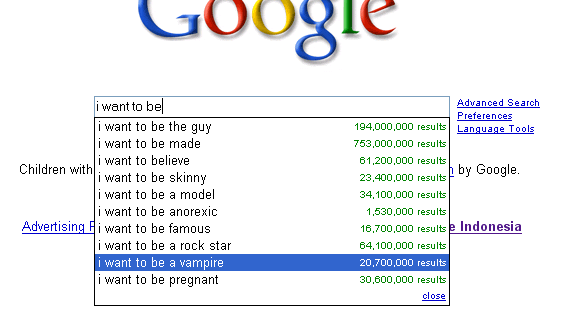 I think we should create a quiz on television called : "
Who wants to be a Vampire
"...
but wait a minute... Is becoming a vampire a good choice for your career?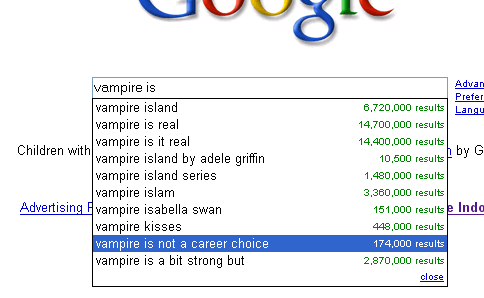 Oh I See.
But you can always learn something from google..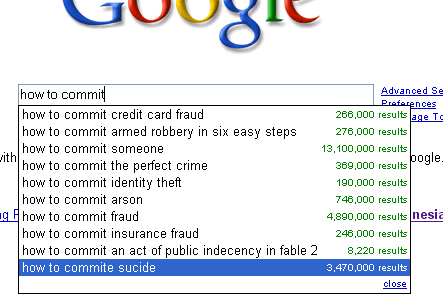 You can find everything in google...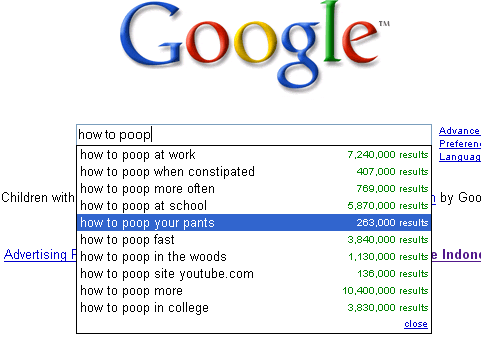 I mean it!
EVERYTHING!
You can even learn how to poop your pants! :D
Lolz..
In the end, it's just a joke. I really found these suggestions on the search engines... funny as hell.. so now you know, google can make you laugh.
The scary thing is...
You know most people in Indonesia laugh uniquely...
Instead of a normal "
Hahahaha...
", they say : "
Wakakaka....
"
But Google knows that too...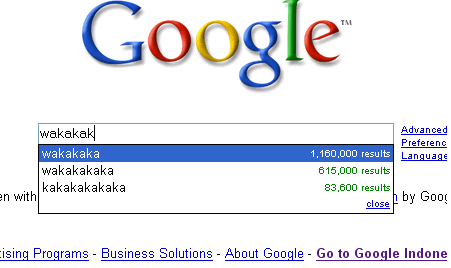 Wakakakakakakakaka!