I see that I have never revealed in this blog
yet that I am not actually from Medan, I was born in a small town called
Kabanjahe
, about 72 kilometers away from Medan. This Kabanjahe or
Ginger Farm
, was a place I didn't like, because my childhood wasn't the best one. But as I'm older and better, I began to feel somewhat nostalgic. Lately, I wanted to go back to visit my old hometown, a place that I've abandoned a long time ago. My family doesn't live there anymore. The only things left for me from that place are my old memories and my old friends.
Speaking of the
Gingerers
(
that's what we call ourselves
)
,
Alexander Putra
and
Eddy
were two of my childhood friends whom I've known since I was like five or six. They are currently living in Singapore, but in the last week, both of them were back in Medan and Kabanjahe. So Alex organized a reunion weeks before he came back. We created a yahoogroup and a friendster group as the mediums for us to communicate. Simply to say, we all have been contacting our old friends like
Frans Lius
,
Jimmy Handoko
,
Christina
,
Lidya Metasari
,
Kris Tomy
,
Michael
,
Riwan
,
Willy
,
Amanta
,
Adi Putra
,
Rudi Laut
,
Eddy
,
Alexander
, and
me
myself. Of all the people above, Rudi Laut was the only one we couldn't reach, because the last of him we heard was that he was backpacking to deep countries in
Sidikalang
. Thus, he was cut off from our lives, up to this moment. Frans, Jimmy, Christina, and Lidya couldn't make it, so the rest of us had the reunion we long planned.
I met them last night, some of them I hadn't met in a very long time, especially Adi Putra. He was the longest of all people I didn't see. Turned out he is living here in Medan without me knowing. He opens a food stand in Asia Mega Mas. We all went there to taste just how delicious his work was. We weren't regretting, that's all I can say. :P
From Left
: Willy the Bawil, Aliang aka Michael, Eddy Han, Awen, Adi Putra, Alexander Putra, and Bambang.
I ran into Meiwina and Merry while we're there. Me and Eddy talked to her. She and her sister were buying Sate padang. Hahaha... Too bad we didn't snap any pictures. And one more thing... for a few people
(
me included
)
who knew about Mei and Adi's history, last night, the meeting with Meiwina again in front of Adi was a little awkward and coincidentally ironic.
Later, we went to K2 to have some karaoke. No need to say much, let me just put the pictures and you can see the enthusiasms and the content atmosphere around us. We sang until 23.30. Great night. Voice ripper.
:D
Know what I mean?
Note

:

Most of the pictures below are GIF animations, so make sure you can view them.
I'm talking about some person who always reads this via Google Read. You know who you are lar! Hahaha...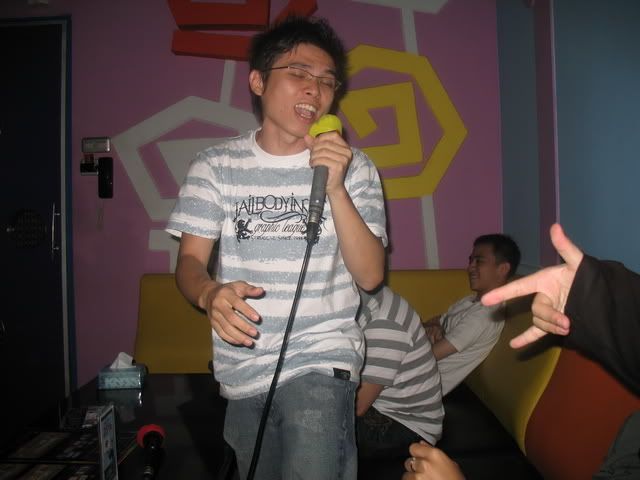 Adi Putra was the energy drink... he was like Extra Joss who sings Joss Stone's songs... I was amazed how energetic he was after working so hard earlier...
This is Alex or Ajun, as we call him. This is the first time I heard him singing before. Man! He has a deep voice... hehehe...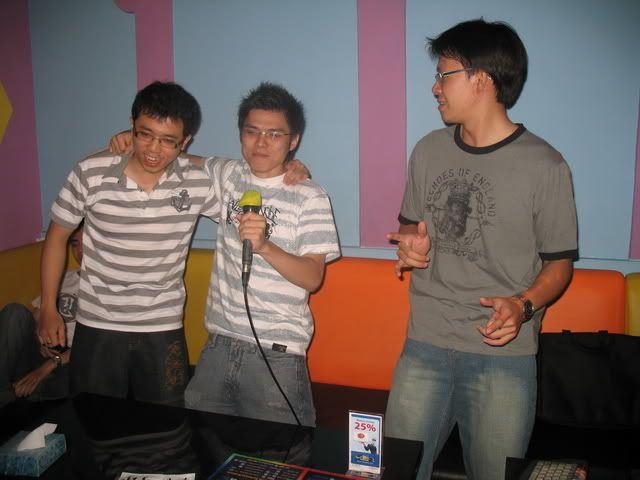 This is how singing in karaoke room should be like. Not only standing, we're dancing for the love of Lucifer.

Well, this is the first GIF today :
and now follows :
Yeah.. if you really pay attention when you're reading right now, you might notice that their clothes were different in the picture above. Why, yes... this picture was taken in Kabanjahe, Willy's house. I wasn't there because I couldn't make it to Kabanjahe. But I've got the pictures here and I thought I'd post them. Hehehe...

And notice all their teeth showed up in the second frame of the animation, especially Eddy's. Hahaha.. Funny! It's like : Open! Close! Open! Close! Open! Close! Wakakakaka...

On the animation above, I got to see Amanta and Tomy's old ugly faces... wakakaka.. This was taken in Simalem. Amanta and Tomy didn't come back to Medan last night, so I didn't get the chance to meet them. :(

OK, Back to Karaoke. In the middle of singing, Adi got a crazy idea, well... maybe romantic at some point... to call his honey by his cell and he sang a love song for her. She was listening throughout the song, with Adi's screaming tones flying in every direction, entering that poor girl's ears... lolz.. OK I'll stop. It was sweet. He was saying his love digitally, so to speak. I took several pictures of the process... Let's just see it below :

We also sang the famous Nat King Cole's L-O-V-E, but in Joss Stone's version... actually... in my and Adi's screaming version :D
After the party ended, we all went home. I on the other hand, didn't want to go home to Tembung, since it was already really late. At midnight, I and Adi went to eat supper,
(
dinner for Adi, because it turned out he hadn't had one :P
)
. I spent the night at his place, and I got the chance to catch up with him. We talked a lot. A Lot of things has changed since the last time we met. I think it was more than seven years ago.
Adi has changed. As I entered his room, I could see his life and his past, his reasons were just flooding upon me. I knew him before, and I think I don't anymore. He is a brand new man. I'm proud of him. And it got me thinking too, maybe I should be more like him.
Anyway, this entry has gotten more serious than I expected. I should close it now. Hehe... So in the end of our little reunion, Alex was offered by K2 and us to pull down a red pocket from K2's ceiling. It was a part of promotion regarding the Chinese New Year.
But inside the pocket was a useless Rp 5000,- voucher which expired in two months. I was resisting the desire to tear it apart the second the K2's staff handed me the voucher.

Nevermind the nominal, it was a fine gesture afterall.

Seeing them again was really fun, and I'll be honest, I didn't expect it to go this way. We were talking about what will happen to us in the next ten years and how unexpected things will turn out... seeing ten years ago, we were all just a bunch of kids going to school... but now... life is about work, and future.

Ahhh... since when we became adults? I hate it! :P

...