Hello World.
I can't believe
it has been one month already since the last time I write anything in here. I missed blogging so much that my stomach hurt everytime I think about things I should have posted but I didn't. As to why, I think I'm trying to answer it in this entry.
I was working so much lately, since it was the time of big exams for my students, the busiest time of the year. And yet I was having more work than usual because I accepted a request from my old students to have me teach them substitutionally. Their teacher had got a Hepatitis and they were left with no teacher as the exam days drew closer. So I helped them, despite my self-commitment to not working until later than eight. But I did take the job, for the last month, I went home at 10 pm every night.
The impact of working so late and so much is that I can't have a life other than work. I don't like teaching very much, frankly speaking. That's why I already quited that late job and I am planning to quit the teaching job all together.
My job is like a gigantic trap. It pays better than any other job I may have, but I have to sacrifice my life, my friends, even my love life. I used to do that.
Now I can't do it anymore.
I'm through letting my work in the way of finding my own future, my own happiness, and my own love life. I want to have fun, and in order to do that, I only have to do one thing. Quit my job.
The problem is I haven't find a new job, since working in an office doesn't really suit me, plus it has little salary. I can't be a salesman or working in any marketing or insurance company because I don't really talk well with stranger. I'm a shy person, see. I'm not proud of it, but it's who I am and it's the fact.
The other things I like doing is working in any aspect related to dancing, multimedia, or writing. But I still can't find jobs in those particular categories. Before I get a new one, I think it's better to stick with teaching, or SHOULD I?
But that's all about my working dilemma. It has prevented me from updating my blog lately, and I'm sorry for that. But now I am freer, and I have a lot of talking to do.
I'm in the phase of evaluating myself these days. Yesterday, for example. I did something I usually don't do. I hung out with old friends and meeting new ladies friends. I think it's time for me to move on, and find a new form of happiness, instead of dwelling in loneliness when I know it can eat me from inside.
Last night, My friend Michael introduced me to three of his friends, Cia Cia, Vina, and Cory. It's a new feeling for me to just go out and meet strangers, talk about I-don't-know-what, get personal information out of them. It felt weird. But Hell, I have to keep up. I need to keep up.
It only needed a couple minutes to make me realize that I was socially retarded.
I guess I've been out of practice. As awkward as it went, I felt much better and I hope I could meet them or other different strangers in the future. I figure, all I really need all this time is companionship. I need a friend.
Perhaps, as you're reading this, World, you may get a new idea of me. I am more optimistic than I was before, with all that loneliness and self-loathing. I think you're right. I think it's no use of me feeling hopeless and desperate all the time. But now I get it. I can be desperate but not hopeless. I try to be not pessimistic anymore. But relax, this blog will always contain my desperations. Hehehe..
What could possibly change my long-lonely-self-loathing-excruciation and turn it 180 degrees? I would say that it's because I felt too miserable in the past month that I had no friends to talk to, no happiness to enjoy, and no hope to cling to. But I think the most crucial factor of this transition phase is this movie :
Everyone wants to be found
A little synopsis for this movie. This masterpiece of Sofia Coppola tells very much about loneliness and why it is so painful. When I was watching this movie, I could really understand how it felt when the Actor Bob Harris was alone in Japan, doing work he didn't really love. He had no one. His job sucked. He needed someone badly. And that's where Charlotte came in. She was a lonely girl as well, living in a life of no goals, not knowing what she must do. She was in Japan only to tag along his hyperworkaholic husband. When the two met with each other, they found each other. A huge friendship occurred between them. Some might find it unique and strange, how a 40 years old guy could hang out with a 20 years old woman. But I get it.

Both Bob ad Charlotte's lives have a big similarities with mine. Especially Charlotte, whose life is leading to who knows where. I really feel for this movie. I am not at all surprise to learn that it got an Academy Award, three Golden Globes, and three BAFTAs.

But there's more of this film than the resemblances with my life. I really love and can't get enough of Scarlett Johansson since I saw her as Charlotte. She was just TOO GORGEOUS there. She's like the perfect form of girl I would fall in love with.

Her hair, Her eyes, Her body, Her everything matched up. It seems like I have to rewrite my TOP TEN MOST BEAUTIFUL WOMEN because someone has climbed up to the top. When I get a chance, I will post the list on this blog. Hehe.

But now, I will use this post to cherish just how beautiful Charlotte is for me. [Big He He]
Beautiful Girl, Unlikely Couple, Neat Wig
A great shot of Scarlett.
You know, before I watched this movie, I like Scarlett because she is gracefully graceful, but MAN, after seeing her in Lost in Translation, I gotta say, ... MAN!
A perfect Girl smokes... I never thought smoking is this sexy before.
More of her...
Perfect girl.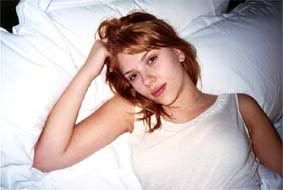 Dream girl.
Again.
Urrgh. So cute.
Beautiful.
Man, I just can't get enough of her.
The last picture is from the final scene, the one which actually wasn't in the script. It was when Bob saw Charlotte before his flight back to his "real life", when he whispered things in Charlotte's ears, something that Sofia and the actors didn't want us to know what was whispered, something that led us to an ambiguous ending, but yet, classy and perfect. This movie is sad and sweet at the same time.
UPDATE :
I've posted
the secret whisper revealed (18/06/2008)
The truth is Charlotte resembles someone in my life very much. I am talking about her looks only. Ah, but that's all in the past, isn't it?
As cheesy as it may sound, I think this movie has helped me with my life. And for that, I have promised myself to never ever forget this movie and what it has made of me.

.


Let's see the trailer.