This actually brightened
my whole day.
You should see it. Wew. I wonder what's inside even more now.
This is the US version. I like it yellow. And the view of the sunset behind Harry. That's just great.
This is the UK's adult version. I like this one better than the children version. I think this is the one copy I should get. Oh yeah *smirking widely* !!!!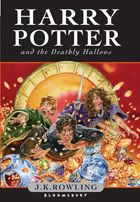 This is the UK's children version. It's quite cool but it's also far from what I've hoped. The HBP cover was still better, and among all, still the best. But I like this one because it had me thinking alot about the plot and what will happen to those guys. What about that yellow thingy?
I am so looking forward to this book, still about 110 days left! Harry Potter has seemed to be the only thing that can cheer me up these days. I owe you one, JK Rowling. *sob sob*
And these links below are the links to the HUGE version of the UK, including the overview of the book. So, be careful not to spoil yourself!
http://www.bloomsbury.com/media/hp7adult_high_complete.jpg
http://www.bloomsbury.com/media/hp7childrens_high_complete.jpg
Soliloquist.
(
http://www.harrypotterindonesia.com/index.php/topic,531.new.html#new
)